Hey everyone, I'm gonna be at THE BODY ART EXPO - "the world's largest tattoo and body art convention" - in Daly City, CA this month with two of my favorite people - BurningAngel street-team-member-turned-cock-jock - BRIAN STREET TEAM, and KELLY CHAOS, one of BurningAngel's spankin' new naked ladies! So if you wanna meet us there and get tattooed and see my boobs and drink a lot of beer all at once, then this is the event for you. Seriously. It is. The best.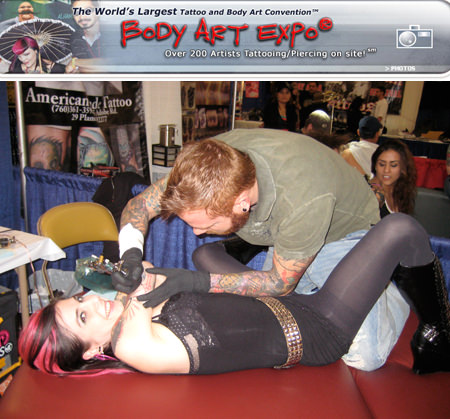 Show will be going on from Friday, March 25th thru Sunday, March 27th at The Cow Palace (2600 Geneva Avenue) in Daly City, CA for only $19/day! Showtimes are:
Friday: 2 PM - 11 PM
Saturday: 11 AM- 11 PM
Sunday: 11 AM - 8 PM
And I'll be at the BurningAngel booth the entire time!
For TICKETS, click HERE!
For a complete list of all exhibitors, click HERE (we're under "Joanna Angel's BurningAngels")!
For more info on vendors, entertainment, accomodations, etc., click HERE!
And that's it! See you at the end of the month.
xoxo
Joanna Angel